Productivity meets power in the newest member to NEXCOM's industrial AI family, the AIEdge-X®500. With a PCIe x16 expansion slot available to support the most advanced graphics cards, the edge PC is built for a variety of AI applications, from image processing/optimization to machine/deep learning and machine vision. The AIEdge-X®500 also includes two other expansion slots, one PCIe x4 and one PCI, for add-on cards. Its sleek design places all of the carefully selected I/Os on one interface, while including sizable HDD/SDD storage for all of your AI-intensive tasks.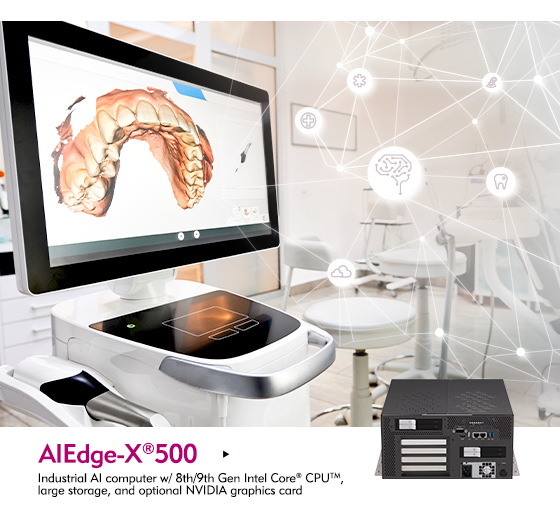 Aid any AI application
Built on the winning system architecture of its AIEdge-X® predecessors, the AIEdge-X®500 integrates maximum graphic processing potential with support for peripheral and internal devices to effectively meet industrial AI requirements. For demanding AI tasks such as deep/machine learning and inference, sensors can collect data and easily link up with the AI edge system, where a combination of frame grabbers, graphic cards, and dedicated software can perform deep analysis, before transmitting data via Ethernet connection to dedicated servers or cloud services. For retail fields, connect IP cameras to record data and perform facial recognition, a useful addition to drive AI precision marketing.
Power your productivity
To maximize all of your multimedia needs, the AIEdge-X®500 is onboard with a full-height, full-length PCIe x16 expansion slot, best for hosting frame grabbers and the newest graphics cards, including the Nvidia RTX 3090. Power-hungry, intensive jobs are a breeze with the ample 800W ATX internal power supply. This also means that your choice of 8th/9th Generation Intel® Core™ processor can perform at its best – even up to a whopping 95W! You can even rest assured that the AI at the edge gateway won't overheat with its durable build and exceptional fan system.
Find features and functionality
Besides the PCIe x16, our newest industrial AI computer is equipped with two other expansion ports, one PCIe x4 and one PCI. For your convenience, the AIEdge-X®500's special design features a host of I/Os all on a singular interface: two RJ45 with LED – one especially for Intel® AMT use, one HDMI, and multiple COM and USB ports. Data storage for all of your heavy-duty AI uses will never be an issue with four 2.5" HDD/SDD drives which additionally support RAID 0/1/5/10.
Main Features
LGA1151 socket for 8th/9th Generation Intel® Core™ processor (35W/65W/95W)
4 x 2.5 inch HDD/SSD slot, supports RAID 0/1/5/10
Expandable PCIe x16/PCIe x4/PCI slots, perfect for graphics cards
Suitable for all kinds of AI applications
1 x Intel® I219-LM GbE PHY and 1 x Intel® I211 Gigabit Ethernet Controller
1 x mini-PCIe socket for optional Wi-Fi/3.5G/LTE modules
Supports Intel® AMT
Ordering Information
AIEdge-X®500 (P/N: 10W20X5000X0)
Industrial AI Computer powered by 8th/9th Generation Intel® Core™ processor, with large storage and optional NVIDIA graphics card