As COVID-19 took the globe by storm in the past year, the pace of digital transformation has accelerated and become even more pervasive. Though direct contacts are not welcomed, meaningful interactions are still expected. With engagements getting fragmented and costly, smart outdoor applications have hence come into play for creating enriched experiences. Diverse objectives and purposes may propose challenges to system builders, when designing applications for multiples scenes such as self-service machines, drive through systems, outdoor notice boards, each has its specific requirements in respective contexts. NEXCOM believes a slim yet powerful fanless box pc can be a remedy and the NDiS B360 is developed to make that difference.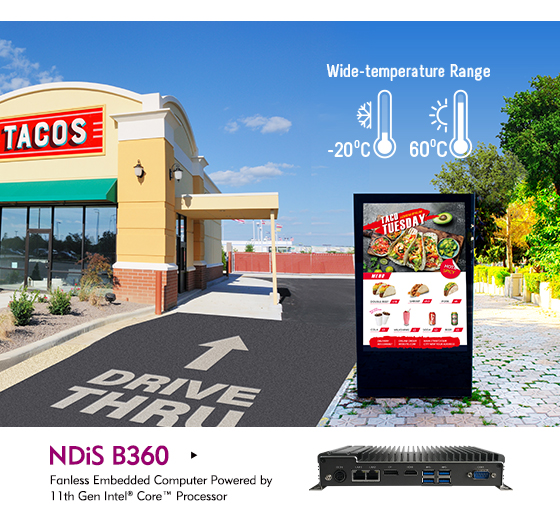 36mm Slim Profile with Indoor/Outdoor Capabilities
This wide temperature box pc is engineered to operate under an extended range of temperature, -20°C to 60°C, allowing the NDiS B360 to withstand extreme weather conditions that mother nature can throw out. This further proves the applications of the NDiS B360 could be extended from indoor scenes to the rigors of outdoor work. Targeted use cases for the NDiS B360 range from EV charging system, outdoor signage and ticketing at bus stop, outdoor sightseeing spot information, parking system, to name a few.
Brand New Experiences by Brilliant Visuals
Paired with an 11th-Gen Intel® Tiger Lake processor, the NDiS B360 can handle typical 4K contents at 60Hz comfortably. The new dedicated graphics Intel® Iris® Xe doubles graphics horsepower with literally the same power consumption, making the NDiS B360 a great fit for multiple graphic-intensive occasions; facial or object recognition is now faster and more accurate thanks to its upgraded AI engine, capable and fully optimized for lightweight vision computing. For applications where multimedia contents are meant to create engagements, such as reception counters, retail signage, kiosk, or parking lots, the NDiS B360 would be of great values.
Comprehensive Connectivity with Massive Storage
A pair of DP++ and HDMI ports is ready for simultaneous media playback on two individual displays, which brings upgraded experiences for the audiences as well as flexibilities for system deployment. Smart city applications bring unlimited potentials for visual applications. With one display showing static image while the other playing video promotion, for example, businesses now have customized contents for various audiences in different display mode, maximizing experiences with more creatives. One M.2 2280 slot with Key M, is reserved and ready to fit on a speedy solid state drive; PCIe x4 Gen III addresses the demand for rapid and massive data transmission.
Wireless Expandability Plus Data Encryption
The slim fanless box pc also packs an optional Intel® TPM 2.0 solution, offering enhanced security for those who need extra peace of mind in access control or data leak prevention. The built-in M.2 E socket is ready for wireless LAN/Bluetooth card installation. Geared with four USB 3.0 ports and two COM ports, the NDiS B360 would work seamlessly with common accessories like printers and scanners.
Main Features
11th Gen Intel® Core™ i7/i5/i3 (Tiger Lake-UP3) processor
Dual 4K @ 60Hz display output, DP++, HDMI 2.0
Support 4K @ 60Hz eDP display output
Dual LAN ports and 4 x USB 3.0 ports for easy connection
Compact and slim design (H: 36mm)
Onboard M.2 2280 Key M with PCIe x4 signal for storage modules
Onboard M.2 2230 Key E for optional Wi-Fi modules
Support extended temperature for outdoor application
Fanless design
Ordering Information
NDiS B360-i3 (P/N: 10W00B36000X0)
11th Gen Intel® Core™ i7/i5/i3 (Tiger Lake-UP3) processor
NDiS B360-i5 (P/N: 10W00B36001X0)
11th Gen Intel® Core™ i7/i5/i3 (Tiger Lake-UP3) processor