Trend
With 5G momentum taking off across all industries in profound ways, sub-6GHz technologies have now gained strong foothold in multiple applications that create new revenue streams, especially for SPs (Service Providers). With their eyes on 5G relevant technologies, such as 5G SA (Standalone), mmWave, Open RAN (Open Radio Access Network) architecture and private networks, CommSPs are driving at full force to monetize on these innovations. URLLC and Network Slicing are made possible under 5G SA environment. A greater bandwidth enabled by mmWave further unleashes the potential of eMBB (Enhanced Mobile Broadband). Open RAN opens up new opportunities to the 5G ecosystem, among these possibilities, one big hype is 5G private networks.
Challenge
To migrate from current sub-6GHz to genuine 5G world, major tech giants have all invested heavily in innovations encompassing IAB (Integrated Access and Backhaul), enhanced beam management, Network Slicing, DSS (Dynamic Spectrum Sharing), and components essential to cloud network service capabilities. The challenge for them, in this 5G race, is to find out what leading technologies are instrumental for the new 5G landscape, to come up with right strategies of new value chain, to cooperate with right research institutes and/or right partners, and eventually form a strong and big alliance that drives the IT evolution for digital transformation.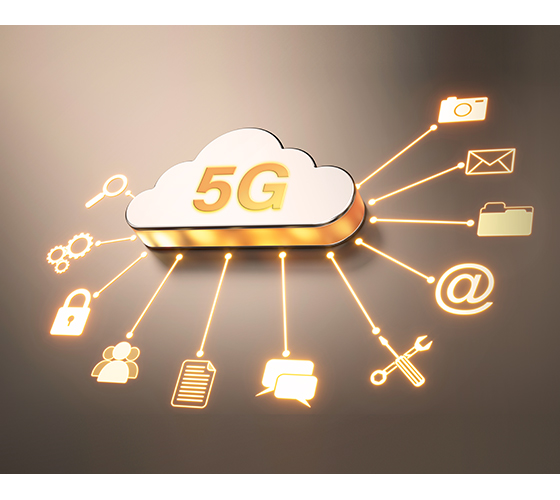 NEXCOM Solution
Embracing the challenge, NEXCOM introduced NSA 7150, a comprehensive appliance competent for multiple roles in datacenters and telecom contexts. Pairing it with other NEXCOM appliances is highly recommended for optimal 5G network capabilities. Incorporating the latest hardware technologies and network interfaces, NSA 7150 offers high-performance hardware pooling while maintaining the lowest processing utilization on RU (radio unit), DU (distributed unit), and CU (centralized unit) levels, all integrated neatly on a single platform. The 2U Rackmount with front access ensures max flexibility and usability. A total of 8 PCIe slots makes convenience for multiple use cases and expansions, including 1G to 100G Ethernet bypass LAN module, 1G to 200G LAN module, QAT module and wireless adaptors for Wi-Fi, 4G LTE and 5G FR1 modules.
Computing wise, NSA 7150 features two 3rd Gen Intel® Xeon® Scalable processors, each scaling up to 40 scores, and Intel® QuickAssist Technology (Intel® QAT) to optimize resource allocation for various virtual functions.
In terms of network capabilities, NSA 7150 is harnessed as many as 8 PCIe Gen4 interfaces, along with Ethernet traffic connectivity up to 1.2Tb, three times its predecessor, NSA 7146. NSA 7150 could also act as an Ethernet Packet Generator, creating and sending any possible packet or sequence of packet on Ethernet link, thus providing an affordable alternative of packet gen solutions. Since ultra-low latency is essential to 5G O-RAN, LAN modules with SyncE standard for time synchronization can be used.
Speaking of high availability and serviceability, a RunBMC module and CPRS redundant power supply are ready at disposal. Out-of-band (OOB) management is enabled through RunBMC (IPMI2.0), making remote management a convenience. The health status of system components is easily accessible through the browser, and the KVM functions support system console viewing off site, allowing administrators to react promptly even if the system fails. The redundant power supply prevents the risks of service interruptions caused by single power failure. Firmware failover mechanism is achieved via the implementation of Dual BIOS and Dual BMC image, adding another firmware layer protection against the unexpected.
Another latest technology from Intel®, namely PFR (Platform Firmware Resilience), can be supported. PFR reduces firmware-related security risks, which could hardly be detected using software due to malware access to the system at firmware level. Intel® PFR verifies firmware during boot, blocks interference and filters malicious actions to protect against attacks or reset system back to default once the system is invaded.
As a long-term partner of Intel®, NEXCOM is also a part of Intel® Network Builders program and is accelerating network transformation with verified Intel Select Solution for NFVI. As its predecessor, NSA 7150 also will soon join the Intel® Select Solutions for NFVI. Based on 3rd Gen Intel® Xeon® scalable processor, as well as NFVI Forwarding Platform v3 reference design, NSA 7150 offers a solid starting point for building NFVI servers of the new generation.
Conclusion
5G is transforming the virtualization and cloud native technologies and requires a powerful and flexible network appliance. NSA 7150 is fully equipped with the latest technologies, including multi-cores processors, increased memory for scalability and enhanced security. Significantly improved performance makes NSA 7150 a perfect appliance for all types of workload, delivering flexible performance to various demands of business.
NSA 7150

2U Rackmount Performance Appliance w/ Dual 3rd Gen Intel® Xeon® Scalable processor and 8 x PCIe4 LAN Module Slots

Dual 3rd Gen Intel® Xeon® Scalable processor
Intel Atom® C3558R/3758R SoC
20 x DDR4 3200 ECC RDIMM/LRDIMM
2 x 2.5" swappable SSD/HDD
8 x PCIe4 LAN module slots
1 x PCIe4 x16 low profile riser card
1300W 1 + 1 CRPS redundant power supply
Supports OCP NIC 3.0
Supports IPMI 2.0 RunBMC (optional)
Supports Intel® QAT (NSA 7150A)
Supports Intel® Optane™ Persistent Memory