Built as an open PC platform, the NIFE 104 exceeds traditional programmable logic controllers, or PLCs, thanks to an inherently modular and adaptable design. Based on Intel Atom® and Intel® Celeron® processors, the NIFE 104 boasts a super compact and light form factor that literally fits in your palm but nonetheless offers plenty of customization and upgrade options.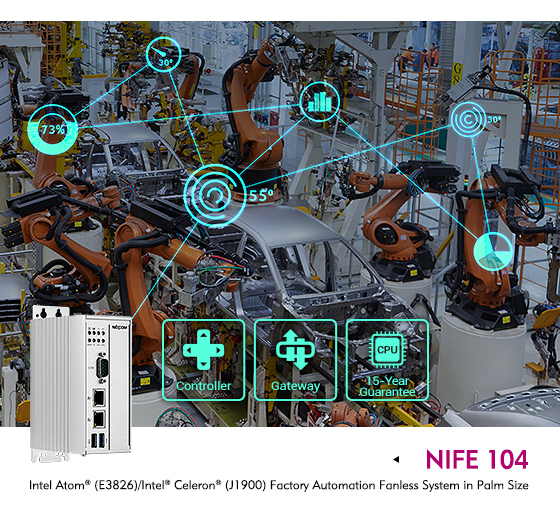 An open center for smart industrial layouts
Thanks to a PC-based architecture, the NIFE 104 inserts effortlessly into virtually any industrial scenario as a gateway, fieldbus controller, or general purpose industrial PC. Whichever way you choose to employ the NIFE 104, you always benefit from reliable NEXCOM hardware and the 15-year lifespan guaranteed all Intel® processors. Additionally, the NIFE 104 runs Windows 10 for utmost compatibility and the latest in interconnectivity. One example of that comes in the form of NEXCOM IoT Studio, which allows for remote hardware monitoring with a user friendly, intuitive interface.
Works hard, maintains easy
The fanless NIFE 104 has no moving parts and thus nearly zero risk of mechanical failure, with no regular maintenance required to sustain optimal performance. We test each unit to industrial-grade strength and tolerance. Depending on configuration, the NIFE 104 operates comfortably in a temperature range of 5 to 55 degrees Celsius, enabling non-stop work in environments that would gradually break a system dependent on active cooling, notably dusty or highly humid locations.
Make it your own: customization and expandability
In addition to choice of main processor, we offer the NIFE 104 with an integrated 16GB eMMC or an mSATA module that opens up many more storage options. Every NIFE 104 includes full size Mini PCI Express and half size Mini PCI Express slots so you can choose to install various expansions such as Wi-Fi or LTE modules. In keeping with the open design of PC-based platforms, the NIFE 104 supports all primary industry standards and formats for easy connectivity and expansion. Despite a super compact form factor, the NIFE 104 manages to fit a lot of flexibility.
Similarly, NEXCOM builds the NIFE 104 with different placement and installation methods in mind. Wall mount, horizontal, vertical or otherwise – the choice is yours.
Secure on the hardware level
Soldered right onto the PCB, we have a Trusted Platform Module 2.0 to keep intruders out and your industrial system online. With the latest version of TPM, users gain considerable peace of mind, safe in the knowledge that hackers and other malicious parties will have a hard time getting unauthorized access.
Enter at a higher grade
While positioned as an entry-level model, the fanless NIFE 104 offers more than just the essentials. Combine the compact form factor, worry-free operation, extensive I/O, and flexible customization and you get a truly versatile platform for your automation needs.
Main Features
Palm size form factor design
Onboard Intel Atom® E3826 processor with 2GB DDR3L RAM
Onboard Intel® Celeron® J1900 processor with 4GB DDR3L RAM
2 x Intel® I211 GbE LAN ports; support WoL and PXE
1 x RS232/485 with auto flow control
Support +24VDC input ±20%
TPM 2.0 onboard
Ordering Information
NIFE 104 (P/N: 10J70010400X0)
Intel Atom® E3826 (Bay Trail) factory automation fanless system in palm size with 2G memory and 16G eMMC onboard
NIFE 104M (P/N: 10J70010401X0)
Intel® Celeron® J1900 (Bay Trail) factory automation fanless system in palm size with 4G memory onboard (no eMMC)