Railway Telematics for Transport Security, Efficiency & Passenger Satisfaction
Rail transportation systems fitted with modern telematics offer a smart technological approach to enabling a safe, efficient and economical railway operation.
With global navigation satellite systems (GNSS), wireless data communication and computerized processing of sensor-generated data, railway telematics can collect, process and share vital information such as positioning, vehicle health and railway line data. Operators can leverage these information as a tool to accurately track rolling stock positions, identify traffic events and measure railway performance to improve the safety and efficiency of the entire railway operations.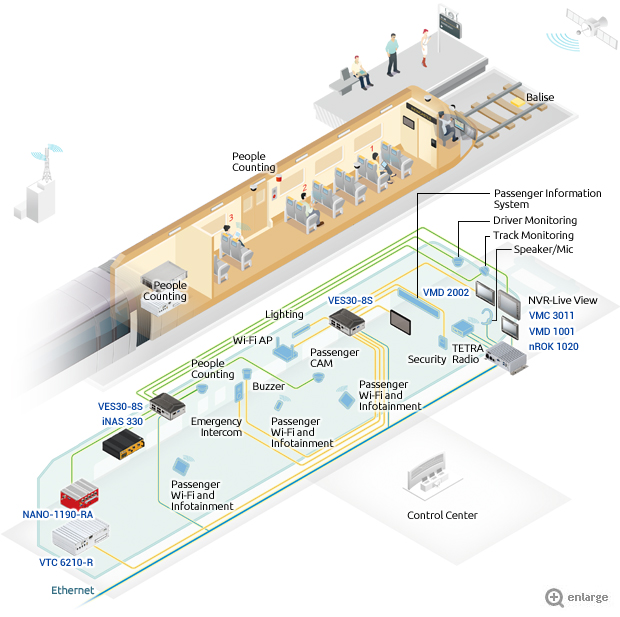 Key Requirements
Compliance with mandatory rolling stock regulations
Safety of passengers and vehicles with active alerts and continuous surveillance
Public address system and multi-way intercom between driver and in and out passengers
Face recognition to identify suspects from central police station
Ticketing system, terrestrial trunked radio (TETRA) and passenger information display
Uninterrupted Wi-Fi service and WWAN connection
Roaming charges on international journeys
NEXCOM's Solutions
EN50155 certification for railway applications
Models with DC-DC power isolation to fully fit each system requirement
ARM-based or PC-based in-vehicle NVRs for real-time surveillance with live-view, recording, and playback featuress
Intercom for drivers to alert or attend in and out passengers, as well as directly connect with remote operators
Powerful computing enables real-time face recognition on every carriage from a remote location
Built-in communication ports to connect devices such as ticketing system, terrestrial trunked radio (TETRA), train signage, card readers, safety sensors and IP cameras
Mobile router supporting different internet service providers (ISP) with multiple Wi-Fi and cellular networks to provide uninterrupted internet onboard
Better signal in remote areas and no roaming charges on international journeys with multi-SIM design and carrier switch