Playing the Key Role of Enriching the Community and Enhancing the Quality of Life
NEXCOM brings vehicle telematics to public works operations to inform residents about operation progress. Targeted to modernize the administration of public works, NEXCOM's vehicle telematics solution can assist with managing and monitoring of automatic vehicle locations, service routes, and operation status. With the solution, local governments will be able to mobilize its public works fleet responsively and elevate the residents' perception of public works.
NEXCOM delivers data acquisition, visualization, and communication altogether with a rugged vehicle telematics solution to improve how mobile forces operate. Adopting the solution in daily operations, local governments can ensure and verify the execution of service plans and make public works activity publicly accessible. With the access to information that could be previously unavailable, residents can check activity updates online instead of hanging in the air, wondering whether they are being left out.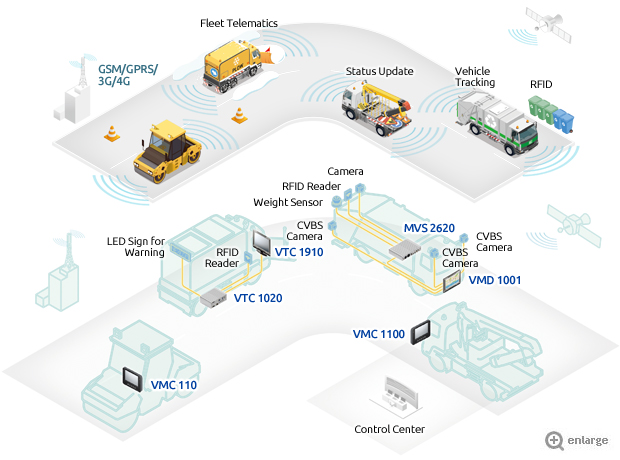 Key Requirements
Power and cost efficiency
Wireless communication to bring IoT into reality
Rich I/O interface to connect with a variety of sensors
Robust design for outdoor in-vehicle computing applications
Compact size to fit in cabins with limited space
Precise and real-time location of the vehicle
High endurance in harsh weather conditions
Uninterrupted power for system stability
Easy for wiring installation and maintenance
NEXCOM's Solutions
The most diverse line of vehicle computers powered by Intel® processors for fast and strenuous work
GPS t racking and WLAN/WWAN communication capabilities
Built-in communication ports such as USB/COM/GPIO/CAN bus/mini-PCIe to connect peripherals and acquire relevant data
Rugged design and IP65 protection for reliable operation in extreme and outdoor environments
Different size offerings with the smallest one of only 130mm (W) x 120mm (D) x 32mm (H)
Extended operating temperature range from -40°C to 70°C
Optional backup battery ensures consistent operation regardless of unstable power supply to support continuous operational and management improvements
ultraONE+ technology supports 10-meter video transmission over a single cable